InnoTab 2 Baby
No customer reviews yet. Be the first.
Almost as soon as InnoTab 2 hit UK retailer's shelves at the end of 2012, VTech announced the launch of InnoTab 2 Baby, a stunning new development of their best selling tablet. Designed for kids as young as twelve months old, this device is designed to develop as the children increase in age - all the way up to nine years old.
Taking an important design cue from its grown up brother, InnoTab 2 Baby also comes with the rotating camera, and features a specially designed green rubber bumper skin for extra protection. Sixteen suitable apps are including for starters including 'Baby Sign Language'. This includes 100 everyday signs that will help to improve a baby's language ability.
William To, president of VTech Electronics North America said this about the new device: "Parents will appreciate the chance to save their own tablets from sticky hands, while at the same time provide age-appropriate learning content and entertainment to their child".
Full of features, the InnoTab 2 Baby includes a 5" colour screen with 1.3MP rotating camera for still images and video recording/playback. A music player and e-Book reader are built in together with the art studio and other many other fun apps. A built-in microphone and motion sensor are features normally found on more expensive tablets, but InnoTab 2 has them as standard.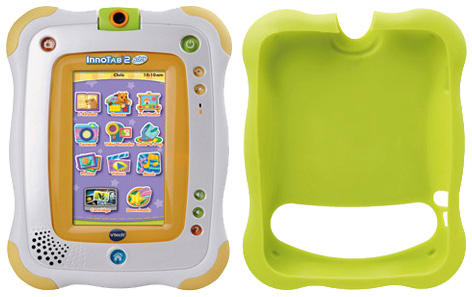 Parents love the customizable welcome screen and the soft, removable gel bumper for ultimate protection. 12 sing-along nursery rhyme songs are included, as well as 4 activities geared specifically towards infants and toddlers including the amazing Noah's Ark e-book.
RECOMMENDED RETAILERS

Amazon
The world's most famous online retailer sells an unparalleled selection of toys.
Buy the InnoTab 2 Baby now >>