InnoTab MAX
No customer reviews yet. Be the first.
Joining Vtech's fantastic selection of learning tablets comes InnoTab MAX. Using one of the fastest processors around, the 7" screen is the perfect size for the 3 to 9 year old children who will use this amazing device.
A long list of features includes 8GB of on-board memory with an expansion slot that can take a 32GB micro SD card. A 180˚ rotational camera and video recorder capture perfect images, whilst the built-in video and MP3 player enables kids to play their favourite music and films.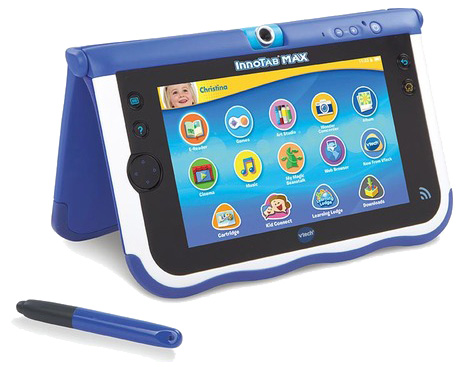 Vtech's own Kid-Safe Wi-Fi and Kid Connect system ensures that children stay safe, yet can also contact their friends using secure connections. Eighteen apps are included in the InnoTab MAX specifications, and an integral rechargeable battery holds plenty of power. It's also the first Vtech tablet to utilise content from the popular Android operating system.
William To, President, VTech Electronics North America said, "As pioneers in the children's learning tablet category – the first with Wi-Fi, first with a messaging app and now our first with Android content, we are confident we are continuing to deliver the unmatched quality, age-appropriate, educational tablets parents have come to expect from VTech as the one-stop learning authority."
RECOMMENDED RETAILERS

Amazon
The world's most famous online retailer sells an unparalleled selection of toys.
Buy the InnoTab MAX now >>