Switch and Go Dinos
No customer reviews yet. Be the first.
From the makers of the popular Toot-Toot Drivers, Switch & Go Dinos is a line of electronic toys from VTech. These car-dinosaur hybrids are a terrific way for kids aged 3-8 to learn about dinosaurs at the same time as having great fun playing with their friends.

Each Switch & Go Dino contains an interchangeable screen and a corresponding Flash card that plays car/dinosaur sounds as the toy is pushed along and the chunky buttons are pressed.
Four products were initially launched in Spring 2012, when they were an almost instant sell out. They were Lex the T-Rex, Mohawk the Stegosaurus, Wing Pteranodon and Horns the Triceratops (our particular favourite!)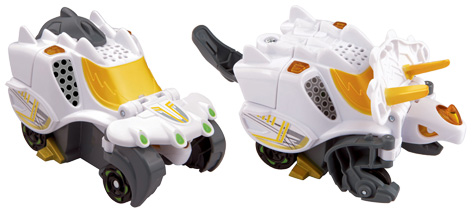 The Switch & Go Dinos ranges expanded in 2013 with the addition of some exciting new products including Sammo the Stygimoloch who changes from a fast racing car into a dino. Akuna the Velociraptor starts life as a racing motorbike, whilst Torr the Therizinosaurus is an army type truck that converts to a dino in a few simple moves. Meanwhile, Abner the Amargasaurus switches between a car and a dino.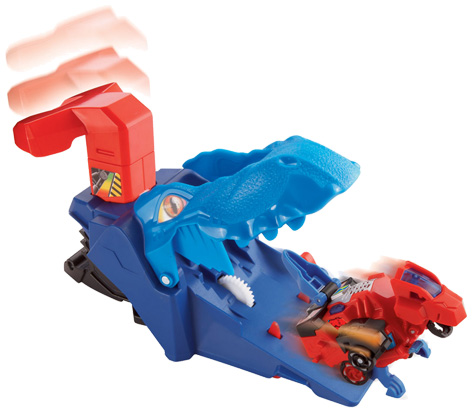 These are big names, but none as big as Mega T-Rex who's ten times the size of the original Switch & Go Dinos collections! He features some amazing voice recognition software that allows kids to speak commands such as 'forward', 'reverse', and 'launch the drill'! An LCD screen can display an assortment of dino faces, as well as different drivers. An awesome toy!
In 2014 the range received another facelift with the addition of a flywheel to increase the Dino's travelling range. All the models were re-named to reflect this big change. Kids can choose from 6 versions including Zipp the massive T-Rex, Spur the Stegosaurus and Spinner the Stigmoloch. Both T-Rex and and Triceratops get new Deluxe Launchers to catapult the new characters up to full speed.
RECOMMENDED RETAILERS

Amazon
The world's most famous online retailer sells an unparalleled selection of toys.
Buy Switch and Go Dinos now >>