My First Tablet
No customer reviews yet. Be the first.
Hot on the heels of the innovative Innopad 2 that was firmly aimed at kids of 4 years old and above, VTech announced My First Tablet which is specifically aimed at children as young as 2.
Launched in early 2013, the tablet is designed to help with letter and number learning. The twelve different activities can all be accessed via the backlit LCD touch screen, and the casing is available in the usual pink or blue versions.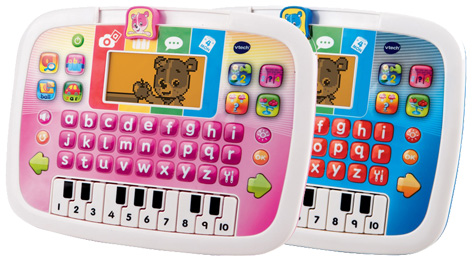 There's no doubt that technology used in adult computers and tablets has a huge impact on the way in which devices for younger children are designed. My First Tablet for preschool kids introduces this technology to these youngsters in an educational and fun way, as well as preparing them for using more sophisticated products as they get older.
RECOMMENDED RETAILERS

Amazon
The world's most famous online retailer sells an unparalleled selection of toys.
Buy My First Tablet now >>