Children's Astronomy Toys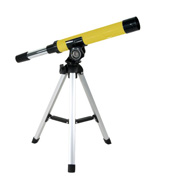 Star gazing has its roots going back to the beginning of time, and modern kids are no less enthralled and fascinated by what lies 'out there' than their forefathers. Children's astronomy toys have serious educational purposes as well as being fun to use and learn about the amazing solar systems and planets that are nearest to Earth. An astronomical telescope is probably one of those first science toys that a child can be expected to receive, and this early curiosity in the stars often leads to a lifetime interest.
Whilst these toy astro telescopes don't have the power or magnification of a professional version, good results can be obtained with even the most budget priced model. The relationship between the sun, planets and our own moon are explored in plenty of mechanical astronomy toys or mobiles that illustrate their orbits in 3D, as well as showing the difference in sizes between them all. Great Gizmos and National Geographic are just two toy companies that have developed a series of products that help children grasp the reality of the vastness of outer space.
These astronomical toys can also create an interest in many other space phenomenons like meteorites, galaxies, nebulae, supernovae, stars and the infamous black holes that defy normal perceptions of gravity. If your kids are interested in Jupiter, Saturn, Mars or Venus there's plenty of astronomy toys to whet their appetite.
FEATURED RETAILERS

The world's most famous online retailer sells an unparalleled selection of toys.
Visit Amazon Now >>