Children's Detective Toys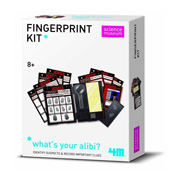 With Cluedo as the top selling 'who dunnit' game, kids have never had such a great choice of detective toys to help them be the best sleuth amongst their friends. Children's naturally inquiring minds and interest in everything happening around them makes them very adept at solving mysteries and quandaries. A big range of educational children's detective toys help to expand their problem solving skills as well as introducing an extra element of role play into this interest.
Fingerprint kits are top of the detective toy lists with makers like Great Gizmos and their Science Museum brand being amongst some of the most popular. Forensic science sets, code breaking kits and crime scene games are all part of the detective toy scene, with more advanced murder mystery games following on as kids start turning into adults.
Sherlock Holmes is still the best known fictional detective of all time, and dressing up outfits complete with his signature deerstalker hat and magnifying glass are great additions for children's detective parties where they have to find the burglar or murderer! His office at 221B Baker Street is central to the game of the same name, and with many other children's detective games and sets on the market, parents will never be short of toys to fuel their kid's fascination with this subject.
FEATURED RETAILERS

The world's most famous online retailer sells an unparalleled selection of toys.
Visit Amazon Now >>