Toys to help with telling the time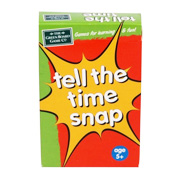 Being able to tell the time is one of life's essential skills. It's possible to give your children the best head-start by choosing enjoyable and high-quality toys that help in this activity. Available products vary from extra-large clocks to talking watches, electronic egg-timers and games that help kids master the skill of being able to tell the time accurately.
Naturally, nearly all toys in this category have an analogue clock face as the basis for the game or puzzle thatís been designed to help with this important and often confusing process. Several companies make nice wooden clock faces with separate numbers that have to be placed in the correct position, thus helping with shape recognition too. Many parents still have a tradition of giving their child their first watch when they have learnt to tell the time properly, and this minor bribe can often speed up the learning time!
Orchard Toys have created a series of games to help children with telling the time, with classics like Tell The Time Snap as pictured above. As long as learning is fun, itís been proved in many studies that kids learn faster, and the following shops have been selected for stocking telling the time toys with excellent educational and learning qualities.
FEATURED RETAILERS

The world's most famous online retailer sells an unparalleled selection of toys.
Visit Amazon Now >>
OTHER RETAILERS