Children's Spy Toys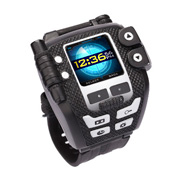 The intrigue and mystery that surrounds government security departments such as MI5 and MI6 is partly responsible for a large series of spy toys that help kids pretend to become a secret agent, and make believe that they can be as ruthless and glamorous as James Bond! With miniature electronic spying devices in real life, it wasn't long before the toy manufacturers were making scaled down versions for all the children that wanted to spy on their parents or siblings.
Laser alarms, night scopes, video watches, satellite listening devices, phone listeners and security scanners are just a few of the fascinating spy toys and gadgets that young undercover agents have at their disposal. Whilst they may not have the ranges or efficiency of their professional counterparts, they still work well enough to give children a great deal of pleasure and fun.
Directional microphones and sensors can easily be rigged up as alarm systems to alert a child that someone is approaching their room or play area, and other spy toys can be used to secretly watch people's movements through miniature telescopes and cameras. Whilst some of this may sound a bit extreme, all sorts of role play toys are important for kids to learn about their own identity and character, even if they may eventually want to become a spy!
FEATURED RETAILERS

The world's most famous online retailer sells an unparalleled selection of toys.
Visit Amazon Now >>