Children's Nature Kits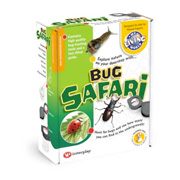 Hear the words "nature kits" and most people will immediately think of bugs, ants, worms and all kinds of other creepy-crawlies. There's certainly no denying that there are plenty of nature sets geared towards these little critters, but there's also a huge range of products that focus on other areas of the natural world – ones that can help your child develop a love of and fascination with the world around them.
Because nature kits encourage children to discover, explore and experiment, these kind of toys provide tremendous value for money. A microscope is often one of the first products a young explorer will want to get their hands on. Although there might be a greater variety of plants, insects and fauna in the countryside, the beauty of nature is that it's all around us. Even in big cities there's still plenty of fascinating items that look amazing when seen through a microscope.
With climate change being one of the key issues of our time, it's no surprise that there are plenty of toy weather stations that can be used to chart, understand and even predict local weather conditions. Magnifying glasses, pond discovery kits, butterfly gardens and toy bird houses are just some of the other products that are out there waiting to be discovered. Brands like Horrible Science, National Geographic and The Science Museum are three of the biggest players in this genre of toys. Other companies like Galt and John Adams also make science and nature kits that are worth investigating.
FEATURED RETAILERS

The world's most famous online retailer sells an unparalleled selection of toys.
Visit Amazon Now >>

Online retailer of creative, educational, wooden and activity toys.
Visit Crafts 4 Kids Now >>