Children's Educational Placemats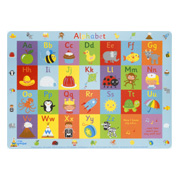 Whilst adults will choose a favourite country scene or any one of hundreds of other pretty designs for their table placemats, kids want something they can relate to and sometimes even use as an educational plaything. Often children's placemats will feature their favourite TV or film character like Thomas and Friends or Disney Princess, but when the dishes are cleared away and the mess wiped up, what could be better to hold their concentration than a placemat that teaches them their numbers or even the alphabet?
Widely used in playgroups and schools, educational placemats can cover a whole range of other subjects like teaching shapes and colours, countries of the world, telling the time or even the planets in our solar system. Usually made from wipe clean polypropylene, these inexpensive and re-useable children's placemats are perfect for adding in an educational aspect to a child's day.
If a colouring in activity is required, disposable placemats are the perfect solution for schools or at home. With a wide range of subjects to choose from, all are consistent with cursive writing, and once completed can be taken home or used as part of a montage of children's drawings. Some companies even provide personalised placemats for kids which will often feature a photo of the child or one of their very best paintings!
FEATURED RETAILERS

The world's most famous online retailer sells an unparalleled selection of toys.
Visit Amazon Now >>