Maths Toys For Children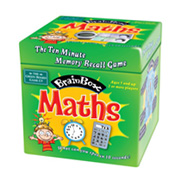 Whilst the humble abacus is largely perceived as an antiquated method of calculating numbers, lots of them are sold annually. Parents know that this first introduction to counting can be a great start to more advanced educational maths toys for children. Any educational toy that introduces an element of fun into learning stands a much better chance of repeat play than any boring books of sums.
Companies like Orchard Toys make some great maths games with a strong focus on mental arithmetic in them. Classics like Pop to the Shops helps kids learn about counting and even handling pretend money - and there are plenty more games like that too. As children get a little older, Green Board Games produce a series of BrainBox games with the maths version being a popular choice.
Older again, and parents have a terrific choice of electronic educational maths games and puzzles to stretch their children's abilities even further. Leapfrog and Vtech are two companies that are particularly strong in this area of education, and their products are suitable for children from as young as 18 months to 10 years old. Juggling numbers and doing sums are not generally regarded as being activities that can be enjoyed - but the selection of genuinely fun maths toys stocked by the retailers below breaks that rule, and are sure to provide hours of fun as well as enabling children to learn at the same time.
FEATURED RETAILERS

The world's most famous online retailer sells an unparalleled selection of toys.
Visit Amazon Now >>

A specialist games and puzzles shop that makes a wide range of maths games.
Visit The Maths Zone Now >>
OTHER RETAILERS