The Golden Teddy Awards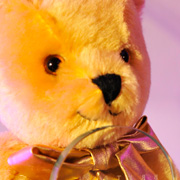 The Golden Teddy Awards began in 2001 and are designed to give public recognition to individuals who have given a special or long service to the toy business, normally for at least 25 years.
The Golden Teddies can be awarded at any time of the year, although most are awarded at the Toy Industry Awards ceremony that takes place during the London Toy Fair each year.
Golden Teddy Award winners are nominated by their peers within the toy industry - and each one is judged on its merits by a panel at the British Toy and Hobby Association. The nominees can work in any sector of the industry and in any capacity. The judging criteria is that the individual must possess "niceness, honesty and integrity".
2016 Golden Teddy Winners
Tom Beach (Toy Industry Safety Expert)
Mike Frost (Generation Media)
Dave Goves (Peterkin)
Paul Reader (Toymaster)
2015 Golden Teddy Winners
Mark Beaman (Epoch Making Toys)
Jeff Taylor (Arena Azure)
Josephine Royce (Rodwins Toys)
Christine Baxter (BTHA)
Tracey Butcher (BTHA)
Mike Rowe (Character)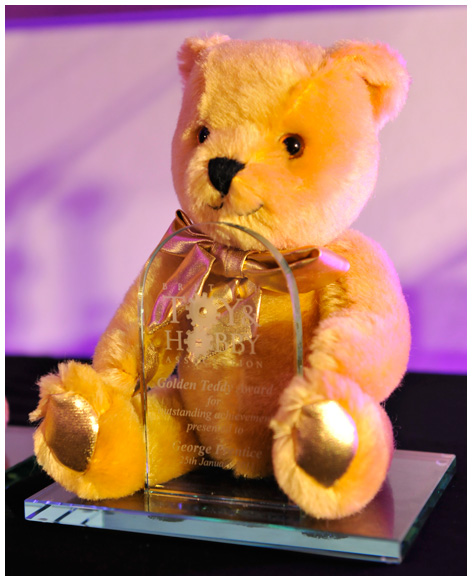 2014 Golden Teddy Winners
Mandy Harrison (Brookite)
Nick Harrison (Brookite)
Keith Thompson (Schleich)
2013 Golden Teddy Winners
Rosemary Hughes (John Adams)
Bernard Smith (University Games)
Graham Brennan (Playmobil)
2012 Golden Teddy Winners
Peter Fielding (Panda Toys)
Julian Boyers
Martyn George (Toy Agent)
2011 Golden Teddy Winners
Paul Edy
Gordon Parker
Bob Henderson
George Prentice
Barry Walker (Conways)
Bob Nicholls
2010 Golden Teddy Winners
Alan Maton (Toy agent)
Keith Frost
Mike Gibson
Keith Lister
Bryan Slaven (Toy Agent)
Graham Thompson (Character Options)
2009 Golden Teddy Winners
John Baulch (Toy World Magazine)
Rob Todhunter (Toy Agent. Also winner of Bandai's agent of the year award, 2010)
Les Vargeson (Earlybird)
Ian Kenyon (Toy Agent)
Previous winners include Mike Edwards, Peter Crispin, Colin Farrow and Malcolm Naish.