Extraordinaires Design Studio
(1 review)
If you've ever wondered what it's like to invent something to carry things in for a Wizard, somewhere to sleep for a Fairy or a cooking utensil for a Pirate, then The Extraordinaires need YOUR help!

The Extraordinaires design studio is a creative thinking game for problem solvers aged 8 to 108! Apply your imagination to create and solve 36 design challenges with this compact design studio.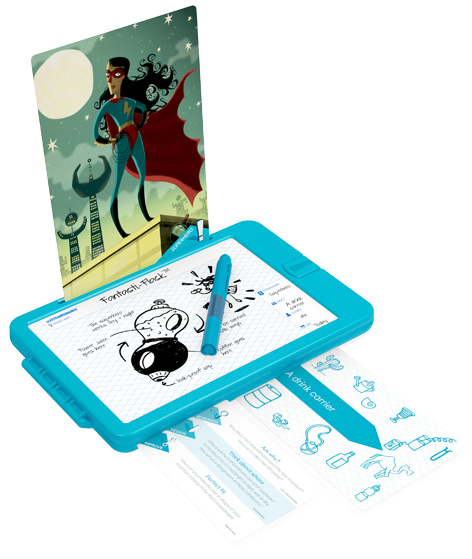 Choose one of the beautifully illustrated Extraordinaires characters and then choose a challenge card and start your design - you might be designing a drinks carrier for a superhero - look closely at the back of the Extraordinaires character card... What makes the characters extraordinary? What are their likes and dislikes, what challenges do they face in their day to day life? Use the Think! Cards to research and refine your design and upload your design to the Extraordinaires website.
The Extraordinaires Design Studio deluxe version was highly commended in the 2013 Creative Steps awards - this pocket version offers the same opportunity for problem solvers to develop their creative design skills in a portable compact case that can go with you on journeys, on holiday or simply in your bag!
RECOMMENDED RETAILERS

Amazon
The world's most famous online retailer sells an unparalleled selection of toys.
Buy the Extraordinaires Design Studio now >>