Hello Sunshine
No customer reviews yet. Be the first.
Following the huge success of ThinkFun's Roll & Play, the company developed Hello Sunshine - a lovely hide and seek game for children from as young as 18 months.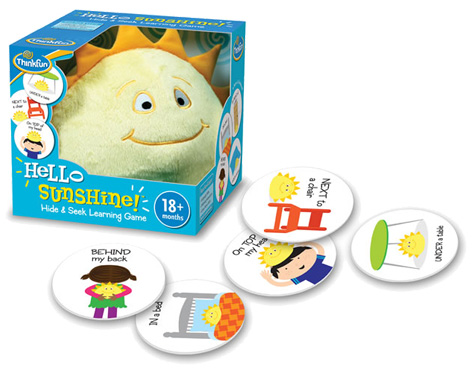 We all know that one of the things toddlers are very good at is playing by their own rules. Hello Sunshine introduces the idea of structured play (taking turns, following instructions) in a simple hide and seek game. Simply pick a card and follow the instructions - where should sunshine hide? Is it in a bed or under a table?. Once hidden, it's time to find sunshine - once found you could think about swapping places - the hider becomes the seeker and vice versa.
Sunshine is a super soft plush, there are 18 double sided cards with 36 different hiding places that teach your child positional words such as: In, On Top, Below, Next To, and more. When not in use the cards are stored in a secret pouch in Sunshine's tummy!
RECOMMENDED RETAILERS

Amazon
The world's most famous online retailer sells an unparalleled selection of toys.
Buy the Hello Sunshine now >>