Quiddler
No customer reviews yet. Be the first.
If you like Rummy, youíll love Quiddler, The Short Word Game. Your challenge is to combine the letters into words using the highest possible point value.
Players start with three cards in the first round, then increase the number of cards by one in each subsequent round (up to ten). Combine the letters to create longer or more words as play progresses. Try to use your high point letters as creatively as possible but donít get caught with them left in your hand once someone has gone out! Extra points are awarded to the player who created the longest word and also to the player who created the most words.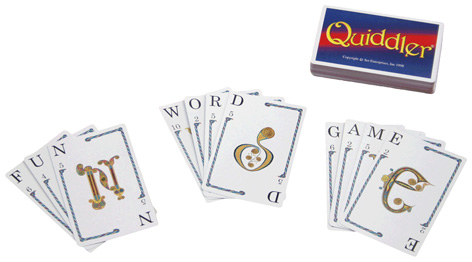 Thereís an element of strategy – look closely at your cards – although you may be able to go out at the earliest opportunity there is also an opportunity to increase your score as you pick up higher scoring letters. Itís not always the person who knows the most words who wins – if you donít have the cards, you canít make the word! A brilliant educational resource for encouraging reading and spelling, all wrapped up in family fun.
Average game time is 20-40 minutes for eight rounds. Winner of over 20 awards including the Mensa Select Award, Quiddler can also be played as solitaire - providing hours of word fun for the single player.
RECOMMENDED RETAILERS

Amazon
The world's most famous online retailer sells an unparalleled selection of toys.
Buy Quiddler now >>