Roll and Play
No customer reviews yet. Be the first.
Designed specifically for toddlers aged 18 months and over, Roll & Play is simple to use and great fun to play! All kids have to do is throw the big soft cube with six different coloured faces. Then they choose a matching coloured card and perform the activity shown on it. These can include simple instructions like 'Moo like a cow' or 'Make a happy face'.
Roll and Play includes the large soft cube and a parental guide, as well as 48 cards (8 in each category) and a special storage pocket to keep the cards safe when not in use. By introducing play patterns and simple rules, young children enjoy the success of giving correct answers as well as having a great play experience.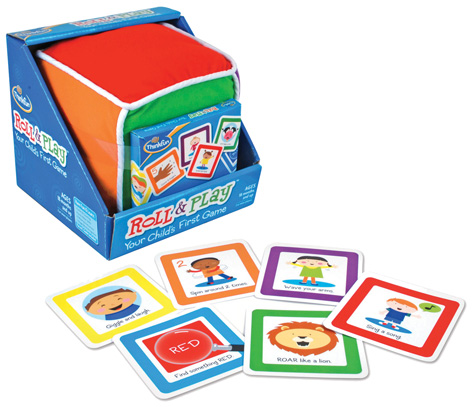 Roll & Play from Coiledspring Games builds confidence and strengthens bonds between parents and children. The colours, numbers and language also provide almost infinite learning opportunities. When the children get a little older, parents may like to try out the award winning Rory's Story Cubes that encourage limitless possibilities for kids to create stories from the pictures on the dice.
RECOMMENDED RETAILERS

Amazon
The world's most famous online retailer sells an unparalleled selection of toys.
Buy Roll and Play now >>