Rory's Story Cubes
No customer reviews yet. Be the first.
As an original and thought provoking children's game, Rory's Story Cubes has no equal. Consisting of nine dice with images on each of the six faces, kids just have to roll the dice and create a story based on the nine images they are presented with. There's only one rule - each story must begin with "Once upon a time", and from then on children can allow their thoughts and expressions to run wild as they create a story that is based on the pictures!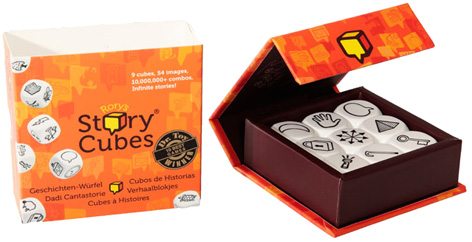 Children can play this game alone or with friends. The cubes are portable, fit easily in a pocket and provide endless play possibilities. Everywhere they are taken people pick them up and start playing. You can see children get really excited at being able to use their imagination and unleash their creativity.
The best feature of these wonderful cubes is the fact that there are no wrong answers - the goal is simply to let the cubes spark your imagination.
Whether you use them for a fun family activity, or to encourage your children to develop their story-making skills, this brilliant set will be loved by everyone. There are various sets to choose from. The original Rory's Story Cubes use pictures of objects and emotions, whilst the Actions and Voyages sets use images of characters, people and places to help kids form their story.
RECOMMENDED RETAILERS

Amazon
The world's most famous online retailer sells an unparalleled selection of toys.
Buy Rory's Story Cubes now >>