Symphony in B Rockestra
No customer reviews yet. Be the first.
Symphony in B Rockestra follows on from the superb educational and musical toy from John Crane simply known as Symphony in B. Based on the same principles, kids can choose from seven instruments and fifteen pre-recorded songs. Kids can now create their very own noisy rock band! The 'orchestra pit' base unit can take up to six different instruments at once with the sound from each one complementing the others.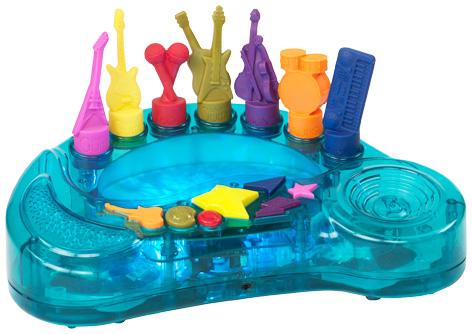 Concealed lighting under the blue stage lights up and flashes in time to every rock music composition. Rockestra instruments include acoustic and rhythm guitars, bass and lead guitars, keyboard, strings and the noisy drums! There are literally millions of different instrument combinations. Any child can now make their own rock songs and hear them played through the inbuilt speaker or through headphones.
The standard Symphony in B teaches children about a wide variety of classical musical instruments and how they interact with each other. The 'orchestra pit' base unit can take up to six different instruments at once, with the remaining seven pieces staying in the attached 'shape sorter' unit. Volume, tempo and learning buttons help children to learn more about the composition of orchestras.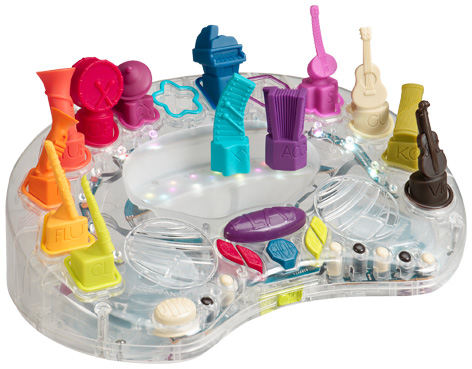 All the instruments interact with each other to play any one of fifteen different tunes, and can be swapped at any time during the play session. Symphony in B comes complete with a drum, accordion, guitar, piano, violin and trumpet. More adventurous children will also want to try out the clarinet, cymbals, sitar, tuba, accordion, xylophone and koto. A book is also included in each set. This tells the kids about various composers and lyrics as well as containing teacher's notes.
RECOMMENDED RETAILERS

Amazon
The world's most famous online retailer sells an unparalleled selection of toys.
Buy the Symphony in B Rockestra now >>