Children's Music Boxes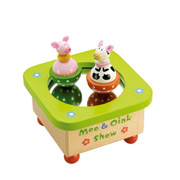 Although nowhere near as old as some of the all-time classic toys like rattles, dolls and spinning tops, the history of music boxes can be traced back to at least the 9th Century when mechanical musical instruments were first used. Over the years various clock and watch makers have developed and honed the mechanical technology that have made music boxes possible. This continued right up to the early 19th Century when musical boxes (as we recognise them today) first gained widespread popularity.
Whilst antique musical boxes raise small fortunes at auctions, many toy companies are keeping the tradition alive by producing affordable items that appeal to today's youngsters. Aimed largely towards toddlers and young girls, the styles that you'll find at your local toy shop may be a far cry from the very earliest examples, but they haven't lost any of the magic or charm that made their predecessors so beloved.
As with every category, these toys haven't escaped the branding treatment. Many favourite children's TV characters make it onto a musical box at some stage in their career, and these versions offer a nice twist on the original concept. Some of our best-loved music boxes don't feature famous characters at all though. Companies like Orange Tree Toys and John Crane make some fabulous boxes that feature ballerinas, princesses and even pigs, all of which dance around on top of the box to the in-built tunes.
FEATURED RETAILERS

The world's most famous online retailer sells an unparalleled selection of toys.
Visit Amazon Now >>
Other categories in our
Musical
section:
Accordions
,
Activity Centres
,
Castanets
,
Clarinets
,
Drums
,
Guitars
,
Harmonicas
,
Karaoke Machines
,
Kazoos
,
Keyboards
,
Maracas
,
Microphones
,
Recorders
,
Saxophones
,
Tambourines
,
Trumpets
,
Violins
,
Vuvuzelas
,
Xylophones
.