Children's Toy Guitars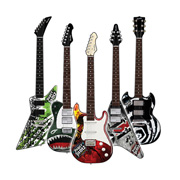 Just like the real thing, children's toy guitars come in an amazing variety of styles, colours and shapes as well as in acoustic and electric versions. As probably the single most popular musical instrument on the planet and if learnt at an early age, most musicians will continue to play the guitar for the rest of their lives. The diversity of sounds that can be produced from a toy guitar are almost as impressive as the full size models, with many of them having built electronic rhythms to help the learners make fast progress as well as great sounds.
Developments like paper surfaces embedded with electronic circuits as used by Paper Jamz let kids become instant rock stars. With no strings to worry about these versions are a great introduction to making music. Market leaders Bontempi make many different children's toy guitars including traditional wooden acoustic versions. These are in a junior size with six strings and a reduced number of frets, and are perfect instruments for learning the basic notes and chords.
Toy guitars are sometimes supplied in sets with a small amplifier and microphone, and kids can soon set up a small studio in their bedroom to practise their new found hobby. Once proficient they can set up a small group with guitar or drummer friends. We mustn't forget the fantastic inflatable air guitars that are a popular source of amusement at karaoke parties, and kids versions come in all sorts of wild wacky shapes and colours.
FEATURED RETAILERS

The world's most famous online retailer sells an unparalleled selection of toys.
Visit Amazon Now >>
Other categories in our
Musical
section:
Accordions
,
Activity Centres
,
Castanets
,
Clarinets
,
Drums
,
Harmonicas
,
Karaoke Machines
,
Kazoos
,
Keyboards
,
Maracas
,
Microphones
,
Music Boxes
,
Recorders
,
Saxophones
,
Tambourines
,
Trumpets
,
Violins
,
Vuvuzelas
,
Xylophones
.