Children's Toy Harmonicas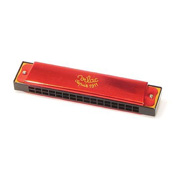 Whilst relatively easy to play by purely blowing air in or drawing air out of it, a harmonica player must have many hours of practise before starting to sound really tuneful. Childrenís harmonicas, or mouth organs as they are sometimes known, are based on the same principle as the professional instruments, and kids can soon learn to play individual notes as well as sliding their mouth along the reed openings to produce a wild mixture of sounds.
Wood is one of the favourite materials for making these small musical instruments as they can be given nice round edges and painted in bright colours. Sometimes a licensed harmonica will carry the image of a kidís favourite TV character to make it more appealing. Bigjigs and Orange Tree Toys both make some great versions with a variety of reed lengths to make high pitched or lower sounding notes. Really inexpensive plastic harmonicas can still make a very acceptable sound.
If kids get really interested in the instrument, parents can buy simple music sheets for their children to learn some easy tunes on their new mouth organ. With a good choice of both toy and realistic models to choose from, kids may even go on to play this fascinating musical instrument for the rest of their lives.
FEATURED RETAILERS

The world's most famous online retailer sells an unparalleled selection of toys.
Visit Amazon Now >>
Other categories in our
Musical
section:
Accordions
,
Activity Centres
,
Castanets
,
Clarinets
,
Drums
,
Guitars
,
Karaoke Machines
,
Kazoos
,
Keyboards
,
Maracas
,
Microphones
,
Music Boxes
,
Recorders
,
Saxophones
,
Tambourines
,
Trumpets
,
Violins
,
Vuvuzelas
,
Xylophones
.