Children's Toy Drums and Drum Kits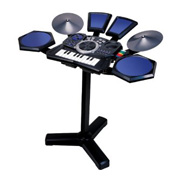 What children don't like making a lot of noise? It's partly for this reason that parents are often reluctant to buy their little boy or girl a toy drum! From a simple hand held drum and stick to a full drum set complete with cymbals, the choice is extraordinarily large with a great variety of materials used to make different sounds.
Pintoy, Plan Toys and Bigjigs make some great children's wooden drums, some of which are cleverly constructed to make slightly different sounds when different parts of the drum are hit. Some parents prefer to buy their kids a traditional metal-cased drum with a hide covering which produce a 'tinnier' sound, but give just as much pleasure to the recipient. Bongo drums are popular too, and the introduction of children's electronic drum kits has revolutionised the sound and volume that can be obtained.
Master toy instrument makers Bontempi have a series of individual children's drums right up to rock drum sets with several different drums available to the player. Good coordination is vital for good playing, and these toy instruments often give kids the inspiration to keep drumming into adult life. A good drummer will always be in demand in a junior rock band!
FEATURED RETAILERS

The world's most famous online retailer sells an unparalleled selection of toys.
Visit Amazon Now >>
Other categories in our
Musical
section:
Accordions
,
Activity Centres
,
Castanets
,
Clarinets
,
Guitars
,
Harmonicas
,
Karaoke Machines
,
Kazoos
,
Keyboards
,
Maracas
,
Microphones
,
Music Boxes
,
Recorders
,
Saxophones
,
Tambourines
,
Trumpets
,
Violins
,
Vuvuzelas
,
Xylophones
.