Children's Toy Castanets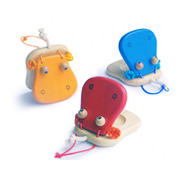 As one of the most basic of musical Instruments, wooden or fibreglass castanets are better known as belonging to a group known as hand percussion instruments. The name means "the hitting of one body against another", and there are plenty of children's toy castanets available that are made in a variety of great colours and designs to appeal to the young kids that will be playing them.
The knack of learning to play castanets is not difficult to master, although a lot of practise may be required to make a series of sounds that can be considered to be music! Often featuring animal face shapes such as ducks, pigs, ladybirds and hippos, companies like Orange Tree Toys, Vilac and I'm Toy all have versions to offer their customers as part of ranges of various toy musical instruments.
For very young children, John Crane make a simpler castanet that has two wooden flappers attached to a handle. All the kids have to do is wave the toy around in the air to produce the familiar 'clacking' sounds. By using varying materials and designs, it means that castanets can be tuned to make slightly different pitches and sounds, so kids can play together without sounding quite the same.
FEATURED RETAILERS

The world's most famous online retailer sells an unparalleled selection of toys.
Visit Amazon Now >>
Other categories in our
Musical
section:
Accordions
,
Activity Centres
,
Clarinets
,
Drums
,
Guitars
,
Harmonicas
,
Karaoke Machines
,
Kazoos
,
Keyboards
,
Maracas
,
Microphones
,
Music Boxes
,
Recorders
,
Saxophones
,
Tambourines
,
Trumpets
,
Violins
,
Vuvuzelas
,
Xylophones
.