Children's Toy Violins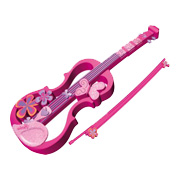 A violin may not be the first musical instrument that a parent thinks to buy their child. This is born from the fact that a badly played violin can make some pretty awful sounds! Despite this notoriety however, there are several distributors that make excellent toy violins for todders and older children.
Many of the models you find are designed to be pure role play products where a child pretends to play along with the programmed tunes that are already built in to the violin. Others have two modes which means children can either choose to play along with the pre-programmed songs or they can go it alone and make up their own melodies!
Whichever type of toy violin you opt for, both provide a great way to get your kids enthused about music and developing their hand-eye coordination. Once they have mastered the basic technique, they should then be able to progress onto a 'real' violin like those produced by professional musical instrument makers such as Zeller or Poller.
FEATURED RETAILERS

The world's most famous online retailer sells an unparalleled selection of toys.
Visit Amazon Now >>
Other categories in our
Musical
section:
Accordions
,
Activity Centres
,
Castanets
,
Clarinets
,
Drums
,
Guitars
,
Harmonicas
,
Karaoke Machines
,
Kazoos
,
Keyboards
,
Maracas
,
Microphones
,
Music Boxes
,
Recorders
,
Saxophones
,
Tambourines
,
Trumpets
,
Vuvuzelas
,
Xylophones
.