Children's Toy Tambourines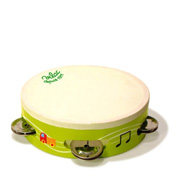 The fact that tambourines are used in such a wide variety of musical genres goes some way to explaining their popularity. Certainly as far as children are concerned, a tambourine's simplicity means it can be used by kids of different ages and different levels of musical ability. Toy tambourines are therefore a brilliantly cost-effective way to introduce your child to the wonders of rhythm-making without breaking the bank on something like a toy drum kit that might get limited use.
Toy tambourines vary greatly in their styles and sounds. Some are circular whilst others are more of a half-moon shape. Some just have a series of metal jingles to make the sound whereas others have a traditional drumhead too. Some even have in-built electronics that make flashing noises when the instrument is struck!
As ever, the Italian musical instrument company, Bontempi, makes a great range of models for children of different ages. Various wooden toy makers such as Bigjigs also produce different size tambourines which are often sold as part of larger percussion sets. These sets are a brilliant way to get your son or daughter jamming away with their friends or siblings!
FEATURED RETAILERS

The world's most famous online retailer sells an unparalleled selection of toys.
Visit Amazon Now >>
Other categories in our
Musical
section:
Accordions
,
Activity Centres
,
Castanets
,
Clarinets
,
Drums
,
Guitars
,
Harmonicas
,
Karaoke Machines
,
Kazoos
,
Keyboards
,
Maracas
,
Microphones
,
Music Boxes
,
Recorders
,
Saxophones
,
Trumpets
,
Violins
,
Vuvuzelas
,
Xylophones
.