Children's Toy Kazoos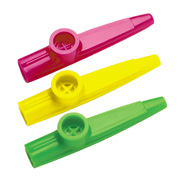 A kazoo is in the wind instrument family, and when blown into has the effect of altering a personís voice through a membrane that vibrates inside the body of the device. Childrenís toy kazoos are very popular because they are so easy to use and do not involve any knowledge of music or use of the hands to press awkward keys.
All a child has to do is actually hum into their toy kazoo, and by changing the pitch of their hum, they can produce deeper or higher notes – simple! The origins of this basic musical instrument can be traced back hundreds of years to Africa where they were often used whilst hunting to mimic an animalís call.
Most toy kazoos are very inexpensive and are mass produced in plastic of various bright and appealing colours. Others may be made of wood, and some like those from Vilac are constructed out of tin with a highly painted gloss finish. Whilst not widely used in any forms of classical music, kids will have a lot of fun playing with this toy.
FEATURED RETAILERS

The world's most famous online retailer sells an unparalleled selection of toys.
Visit Amazon Now >>
Other categories in our
Musical
section:
Accordions
,
Activity Centres
,
Castanets
,
Clarinets
,
Drums
,
Guitars
,
Harmonicas
,
Karaoke Machines
,
Keyboards
,
Maracas
,
Microphones
,
Music Boxes
,
Recorders
,
Saxophones
,
Tambourines
,
Trumpets
,
Violins
,
Vuvuzelas
,
Xylophones
.