Musical Activity Centres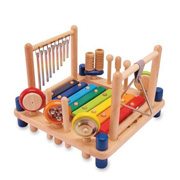 You can loosely define a musical activity centre as being a single product that is capable of creating numerous different sounds or rhythms. They are most commonly associated with toddlers and usually have very bright colours and multi-textured, tactile surfaces that stimulate hand-eye coordination and encourage self-expression.
There are however, plenty of musical activity centres designed more for babies, and there is also a whole range of specialist products that are specifically geared towards children with special needs. Some of these toys from pioneering companies like LeapFrog and Vtech have over a dozen activities and hundreds of different sound combinations.
With many of the gizmos activated by different actions such as pushing, pulling, sliding or opening, your toddler will soon be singing, dancing or drumming along to the sounds that they create. There is of course, an educational benefit to all this fun. Many children's music centres combine sound with numbers, letters and shapes, and this means your child will be growing their vocabulary and grasp of English and mathematics at the same time as making music.
FEATURED RETAILERS

The world's most famous online retailer sells an unparalleled selection of toys.
Visit Amazon Now >>
Other categories in our
Musical
section:
Accordions
,
Castanets
,
Clarinets
,
Drums
,
Guitars
,
Harmonicas
,
Karaoke Machines
,
Kazoos
,
Keyboards
,
Maracas
,
Microphones
,
Music Boxes
,
Recorders
,
Saxophones
,
Tambourines
,
Trumpets
,
Violins
,
Vuvuzelas
,
Xylophones
.