Children's Toy Maracas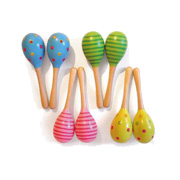 Widely used in music making throughout the Caribbean Islands where they were invented, maracas are basic percussion instruments made from shells and filled with dried beans or seeds. Shaken in the air or hit against a leg, the quantity of the filling alters the sound each one produces.
Childrens' toy maracas are one of the most popular musical instruments for young kids, and help to give them a sense of rhythm whilst accompanying a friend or sibling during a junior jamming session. Several prominent toy manufactures include toy maracas in their selections, with wood being a popular choice of construction material.
Bigjigs, John Crane and Smiffys are just three of those firms, and even electronic toy supplier Leapfrog has a version that teaches youngsters how to count in two languages! Toy maracas are made in several different sizes to suit different children's ages, and some are included as part of a larger musical instrument set that may include xylophones, bells and tambourines.
FEATURED RETAILERS

The world's most famous online retailer sells an unparalleled selection of toys.
Visit Amazon Now >>
Other categories in our
Musical
section:
Accordions
,
Activity Centres
,
Castanets
,
Clarinets
,
Drums
,
Guitars
,
Harmonicas
,
Karaoke Machines
,
Kazoos
,
Keyboards
,
Microphones
,
Music Boxes
,
Recorders
,
Saxophones
,
Tambourines
,
Trumpets
,
Violins
,
Vuvuzelas
,
Xylophones
.