Children's Toy Microphones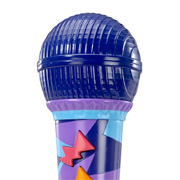 There's no doubt that young children love the sound of their own voices until they reach a slightly self conscious stage when getting them to speak about anything can be a problem! To help them make the most of these noisy early years, many companies make children's toy microphones that incorporate lots of exciting features like animal sounds and music that kids can sing along with. Vtech and Leapfrog both sell great versions that are suitable for kids as young as two years old.
As they get a bit older, these toys become a bit more sophisticated as some of them incorporate stands, and have leads that can be plugged into small amplifiers. Invite a few friends around with guitars, drums or keyboards and these budding lead vocal singers can soon form their own small band. As with all things musical, Bontempi toy microphones are some of the best around, and are sometimes even incorporated into keyboards for great sounding music and vocals.
Girls can pretend to be Hannah Montana with their very own branded version, and all children love singing along ZingZillas style with a version from the hit CBeebies show. Some firms even make models that are part of much bigger sets that include a few other musical instruments too. Kids can pretend to be whichever singer that want to be when their toy microphone is plugged into a karaoke machine.
FEATURED RETAILERS

The world's most famous online retailer sells an unparalleled selection of toys.
Visit Amazon Now >>
Other categories in our
Musical
section:
Accordions
,
Activity Centres
,
Castanets
,
Clarinets
,
Drums
,
Guitars
,
Harmonicas
,
Karaoke Machines
,
Kazoos
,
Keyboards
,
Maracas
,
Music Boxes
,
Recorders
,
Saxophones
,
Tambourines
,
Trumpets
,
Violins
,
Vuvuzelas
,
Xylophones
.